SFKH
Svenska
föreningen
för klinisk
hypnos



ISH
The International
Society of Hypnosis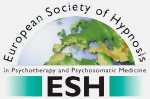 ESH Central Office
Inspiration House
Redbrook Grove
SHEFFIELD
S20 6RR
United Kingdom

Susanna Carolusson, M.Sc., lic psychologist, lic psychotherapist, Certified University supervisor and teacher, hypnotherapist, body psychotherapist, organisational psychologist, ESTI-certified trainer & supervisor. Began her professional career in paediatrics 1979, continued in psychiatry with adults, then in private practice, and as organisational psychologist.
Doing counselling and psychological assessments in paediatrics in the seventieth, later in psychiatry as a clin. Psychologist, now in private practice since 25 years as a clinical psychologist, psychotherapist and supervisor, director of education SSCH University and also as a management consultant

Has published various articles on hypnosis; scientific perspectives / indications and therapeutic flexibility / transference and countertransference in hypnotherapy / hypnosis and depressions / hypnosis and DID / evidence and the study of sciences/ a book on traumatic brain injury, rehabilitation and values

Responsible for the SSCH postgraduate psychotherapy and supervising educations, as a director and teacher

Honorary member of SSCH

Past President of SSCH

An often invited guest lecturer at the University in Gothenburg

Clinical consultant for Sahlgrenska University Hospital in a long term research project on hypnosis in the treatment of irritable bowel syndrome

Supervising consultant for staff in rehabilitation occupations

Speaker at conferences for neurological rehabilitation, due to her very existential books on this issue

Frequently invited lecturer at international psychological, medical and hypnosis conferences

Mastering and using the tools of CBT, solution-oriented hypnosis, body psychotherapy, reframing, etc., her wide experience has driven her towards an existential-psychodynamic framework in her practice. Accordingly, she has become critical to standardised clinical methods in research on psychotherapy and hypnosis. She has felt at home with authors such as Virginia Satir, Donald Winnicott, Frieda Fromm-Reichmann, Karen Horney, Milton Erickson, Erica Fromm and Helen & John Watkins. Not to forget open-minded colleagues and students!

2012-cont. In the International Society of Hypnosis Credentials Committee for membership applications.

2017–2018: Member of the International Society of Hypnosis 2018 Awarding Committee.

Awarded Honorary Fellowship in ESH for my contributions to the Society.
Formal training background
Gothenburg University: Master of Science in Psychology. 1984

Diploma from Swedish Society of Clin & Exp Hypnosis. 3 years of education. 1984

PsykoterapiCentrum: Body oriented psychotherapist Certificate. 1986

National Swedish Board of Health and Welfare: License as Psychologist. 1986

National Swedish Board of Health and Welfare: License as Psychotherapist. 1989

Certificate as supervisor and teacher of psychoanalytic orientation. 2004
(Such a certificate is demanded by the Swedish Ministry of Higher Education,
for supervising psychotherapy candidates.)